The last time I went on tour was in 1999, and in those days I traveled around the world as a tour director, taking clients on vacation. Tomorrow I'm traveling around the world on tour again, but this time from the comfort of my own home. Join me at the following destinations to meet new people and learn new things.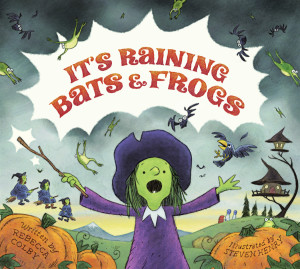 AND, if you enjoy scavenger hunts and giveaways, keep a close eye on the blog posts. Some of them will be offering IT'S RAINING BATS & FROGS book giveaways and over half will be participating in a scavenger hunt. Read these latter posts carefully to find the answers you'll need in order to be in with a chance of winning the overall giveaway for a $50 USD Amazon voucher (or £30 GBP Amazon voucher) at the end of the tour. More details can be found below after the tour dates.
10 August – StorySnug Interview and giveaway
11 August – Tara Lazar's Writing for Kids (While Raising Them) Picture Book Idea Month Success Stories and Giveaway
14 August – Yvonne Ventresca Five Tips for Debut Authors
15 August – The Children's Book Review Five Family Children's Book Favorites
17 August – Clare Helen Welsh So You've Got a Book Deal, What Next?
18 August – Marcia Strykowski August Author Spotlight Interview
19 August – Teaching Authors Part 1 Wednesday Writing Workout
23 August – Picture Book Den What's in it for the Adults?
24 August – Teaching Authors Part 2 How to Write a Teacher's Activity Guide
25 August – Christina Banach Interview
27 August – Laurie J. Edwards Show Them the Funny: Writing the Humorous Picture Book
28 August – GROG Storybook Cooks and giveaway
SCAVENGER HUNT: I love scavenger hunts which is why I chose to run one. As I mentioned above, only about half of the blogs visited will feature answers for the hunt, and it's up to you to find out which ones do and then find and collect all the answers. There will be eight answers to find and submit in total.
So what should you be looking for? Witch names, of course! Each post will mention a fictitious witch somewhere in the post. To be in with a chance of winning, leave a comment on the blog where you found the name (but please DON'T reveal the name) and then at the end of the tour, send me a list of all eight names via my website contact page, and enter the Rafflecopter entry form below.
You have until 11.59pm EST on 5 September to enter the scavenger hunt giveaway! Entries are open worldwide but please know that the Amazon voucher will only be given out in US dollars or GB pounds—winner's choice. I will also magic up a couple of surprise runner-up gifts but they will remain surprises until the end of the giveaway!
Happy touring with me!