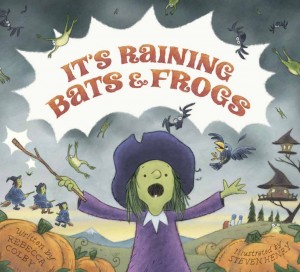 IT'S RAINING BATS AND FROGS
Author: Rebecca Colby
Illustrator: Steven Henry
Publisher: Feiwel & Friends
ISBN-10: 125004992X
ISBN-13: 978-1250049926
Delia has been looking forward all year to flying in the annual Halloween Parade. But parade day brings heavy rain. So, Delia takes action. Using her best magic, Delia changes the rain to cats and dogs. But that doesn't work too well! Then hats and clogs. That doesn't work either! Each new type of rain brings a new set of problems. How can Delia save the day?
Reviews
"A sweet and satisfying Halloween story to share with young audiences."–-School Library Journal

"Share at Halloween or use as an example of playing with chants and rhymes. Perhaps this title will inspire many magical spells."–Kirkus

"It's a whimsical Halloween adventure from first-time author Colby, and Henry's cartoons make the most of the comedic setup."–Publishers Weekly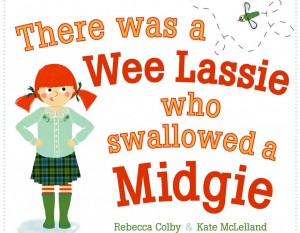 THERE WAS A WEE LASSIE WHO SWALLOWED A MIDGIE
Author: Rebecca Colby
Illustrator: Kate McLelland
Publisher: Floris Books
ISBN-10: 1782500480
ISBN-13: 978-1782500483
In this Scottish twist on a much-loved rhyme, the wee lassie swallows a succession of Scotland's favorite creatures to catch that pesky midgie—including a puffin, a Scottie dog, a seal, and even Nessie! After all that, the wee lassie can't still be hungry. Can she?
To take a sneaky peek inside the book, check out the trailer here.